The Chatham Miramichi Honda Ironmen are pleased to announce the addition of RHP Shane "Shooter" Courtney.  Courtney moved to the Miramichi in September and is employed with M.O.R.E. services as a vocational officer.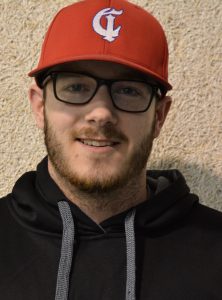 Courtney joins the team from the two-time national champion Tecumseh Thunder, in Ontario, where he spent all his minor baseball career. In fact, Shooter derived his name at the age of 5 from his home in Windsor. "All my friends at that time had nicknames and I didn't, so I called myself Shooter which stuck, even my Mom calls me Shooter," he said.
A new resident of Miramichi, the Ironmen expect Courtney to partner with import Jason Jarvis and veteran JF Neveu to lead a strong pitching staff.  Courtney finished the 2017 season with a 5-1 record and an ERA of 3.21.  This included a complete-game 10-strikeout victory over Manitoba at the National Championships in Victoria, British Columbia.
Courtney decided to come to the Miramichi last year after discussion with his longtime friend and Ironmen catcher Jeff Watkin, who was the Ironmen import player last year.
"Jeff spoke very highly of the area and the Ironmen and I decided to come here and take a look," he said. "I was on the Miramichi last year watching the Ironmen in the playoffs and decided to stay," he acknowledged. I really had nothing holding me back, back home, I liked what I saw and decided to stay here and play."Prior to joining the Thunder, Courtney starred with the St. Clair Saints of the Ontario Colleges Athletic Association.  Over three years Courtney amassed a record of 12-0 with three saves and a 1.15 ERA.  He was awarded the OCAA pitcher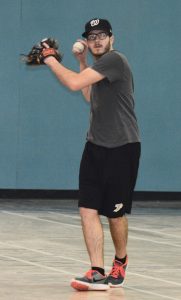 of the year, OCAA tournament MVP and the OCAA finals MVP.  He was also named St. Clair College Athlete of the Year.
Courtney is a former teammate of Ironmen catcher Jeff Watkin.
The Ironmen will open their 2018 schedule on May 21st in Charlottetown to face the Islanders.  Their home opener is scheduled for Thursday, May 31st when they host the Fredericton Royals.  For a complete schedule, check out www.chathamironmen.com